Kitchen Remodel Marietta
Are Kitchen Remodels Worth the Investment?
Kitchen remodels are one of the most valuable home improvement investments nationwide. Marietta kitchen remodels are no exception. An upgraded kitchen adds personal value to a home, as well as increase the market value. The return on investment for kitchen upgrades is one of the highest among all remodeling and design projects for Marietta homeowners. But there are important factors to consider to get the most out of your investment. At 818 Remodeling Contractor, we help you consider all the factors to determine what is best for you.
Kitchen Remodels have an excellent Return On Investment (ROI), especially in Marietta . In fact, Marietta kitchen remodels have a higher ROI than the national average. According to the Remodeling 2019 Cost vs. Value Report for the Marietta area, the cost recouped from kitchen remodels is between an impressive 60.2% to a surprising 83.4%, depending on the scale of the project.
ROI of Minor vs. Major Remodels
The good news for Marietta residents is the difference in ROI between a major upscale kitchen remodel (60.2%) and a midrange kitchen remodel (63.8%) is less than 4%. This relatively negligible difference means you do not have to compromise on your dream kitchen design for the sake of market value if planning a major kitchen remodel.
The ROI on a midrange, minor kitchen remodel in Marietta comes in at a whopping 83.4%. This is excellent news for real estate investors and flippers, whose main focus is market value, not personal value. 818 Remodeling Contractor works with many flippers to maximize their investment. This amazing ROI may be appealing to homeowners as well, but families who plan to enjoy their newly remodeled space for a long time to come must also factor in personal value of their new design.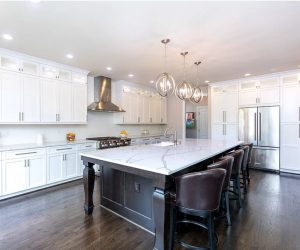 Market Value vs. Personal Value of Remodels
Minor kitchen remodels are most attractive to investors in Marietta, since they have the greatest return on their investment in a short amount of time. After all, an investor's goal is to make it appealing to others, not themselves. Homeowners, however, must add personal value to the equation since they will be living in the remodeled space.​
Market Value​
The 20-point difference between minor kitchen remodels, and major kitchen remodels may seem shocking at first, but that is typical across the board for remodeling and design projects. A major remodel of any kind almost always has a 10-20% lower return on investment than a minor remodel. This may seem counterintuitive at first, but there is a cap to market value. Major remodels often exceed this market value cap, hence the lower return on investment. But, lucky for Marietta residents, major kitchen remodels in this area still recoup a very good ROI. ​
Personal Value​
Homeowners may be tempted to opt for a minor kitchen remodel based on the difference in ROI alone, but that would be a mistake. It is important for homeowners also to consider the personal value the remodeled spaced will add to their family. This is especially true of a kitchen remodel and design, which is well-known as the heart of the home. A major kitchen remodel that gives you the kitchen of your dreams can add lifestyle value that far exceeds the 10-20% loss in ROI.
What is the Typical Cost of Kitchen Renovations
Despite what you might expect, the job cost of kitchen remodels in Marietta isn't much higher than the national average. The average Marietta kitchen remodel for minor projects costs approximately $10,950. Major kitchen remodels vary greatly from project to project, ranging from $25,000 to $150,000 depending on the scope of the project. But ultimately, it comes down to budget. ​
The selection of cabinet design should also be focused on the cabinet hardware as well. It plays a role in the overall aesthetic form and function of your kitchen. Looking at all these different aspects, hiring a professional kitchen design and remodeling contractor company is crucial and that is the point where we step up in the game. Homeowners love 818 Remodeling Contractor and all we offer during the kitchen remodeling and design process.​
Budget for Renovations
At 818 Remodeling Contractor, we believe your budget should determine the cost of your kitchen remodel, not the other way around. Even if you have a below-average budget, we can still help you make valuable improvements to your kitchen. We can even tackle your kitchen remodel in phases. For instance, phase one can be changing the flooring; phase two can be upgrading the cabinets; and so on.
But, if you are going to remodel in phases, you need to have an overall plan from start to finish to avoid double-paying for improvements. For example, if you change the flooring in phase one but then change the floor plan of the cabinets in phase two, you may expose floor space that was originally covered by the old cabinets. You don't want to have to patch your flooring or, heaven forbid, be unable to get more of the same flooring. Therefore, you need to know step-by-step what you are going to do in each phase and how it may affect or be affected by other phases. 818 Remodeling Contractor can help you make that plan.
In the long run, it is cheaper to complete the entire renovation all at once. Additional phases require additional masking materials, demo waste removal, travel expenses, and so on. But it is nice to know you have options. We want you to know that 818 Remodeling Contractor works with you to achieve your dream kitchen.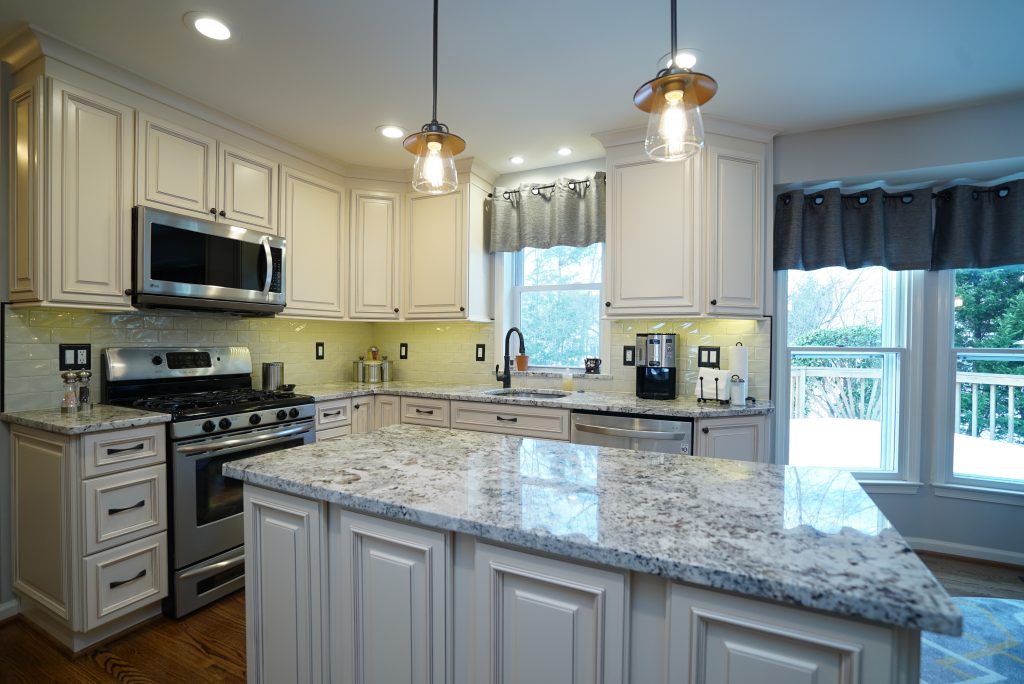 How to Get Your Dream Home Design in 3 Easy Steps
The secret behind a magazine-worthy kitchen is not the price-tag, but the design. By incorporating your family's lifestyle and personal taste into the design, 818 Remodeling Contractor can help you build the kitchen of your dreams. From countertops and flooring to cabinet hardware and outlet covers, our team of expert designers pay attention to every detail. With our professional guidance, an HGTV-worthy kitchen is within your reach.​
Get Your Questions Answered
Use our Contact Us form below or call us at 855-931-1331 to get in touch. We can answer any preliminary questions you have over email or the phone. To answer questions specifically about your project, we schedule a free site visit to your home to discuss what you want in more detail. ​
Get Your Free Estimate
Our highly experienced project manager comes to your home to discuss your kitchen remodel. He will take measurements, take note of plumbing and electrical lines, and consider different options. Since we also specialize in complete home remodels, he can discuss opening up walls, adding windows, and more. Within 1-2 business days, our project manager will send you an itemized estimate for your kitchen remodel project.​
Get Started!
After you review the estimate, we answer any follow-up questions you may have. Once you are comfortable, you sign a contract, and we get started on your dream kitchen! At 818 Remodeling Contractor, we plan for contingencies. Rest assured, we do everything possible to deliver on time and on budget, regardless of unforeseen obstacles that may arise. We keep you informed from the first phone call to the big reveal. ​
Enjoy Your Dream Kitchen​
Before you know it, you can be cooking a gourmet meal surrounded by your friends and family in your new dream kitchen. But it will no longer be a dream; it will be your reality. You will look forward to preparing family meals, inviting friends over, and hosting family gatherings. Gone will be the days of frustration and embarrassment, replaced with days filled with the happiest of memories.
At 818 Remodeling Contractor, we pride ourselves on being one of the most dependable and affordable kitchen remodeling contractors in Marietta. We are confident in our team's ability to complete your project to the highest standard. We also commit ourselves to provide the best customer service around.
We are here to help, not to hustle. So please, complete the contact form below or give us a call today. Let us help make your dream kitchen a reality.